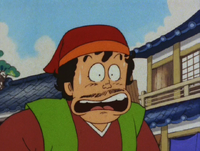 Senbei Taromonosuke Norimaki is an ancestor of Senbei Norimaki from the Edo period. Since he was not lucky with women, he created the Miracle Pills to make him attractive to them. He appears in the Dr. Slump and Arale-chan episode "Arale Swims in the Ancient Past".
Ad blocker interference detected!
Wikia is a free-to-use site that makes money from advertising. We have a modified experience for viewers using ad blockers

Wikia is not accessible if you've made further modifications. Remove the custom ad blocker rule(s) and the page will load as expected.