Something's Missing!
is the third chapter to the original
Dr. Slump manga series
written by
Akira Toriyama
.
Summary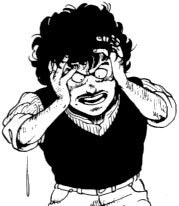 Arale Norimaki comes home from school telling Senbei Norimaki that while changing during P.E, that girls said that she is missing a body part. Senbei ends up thinking that this part was the female crotch area. He ends up making a special pair of glasses called the See-Thru Glasses to see naked females for "examples". Senbei and Arale end up going outside to look at a girl, but a cat is covering/laying on her front area. Senbei ends up seeing Taro Soramame, Peasuke Soramame and even Suppaman, who is flying, naked because of the glasses. Senbei then hears that Midori Yamabuki is driving by and rushes to see her, but ends up getting hit by her scooter, breaking the glasses. Arale tells Senbei that she was missing a belly button, not the female crotch.
Appearances
Characters
Locations