Super Driver is the 99th chapter of the Dr. Slump manga.
Summary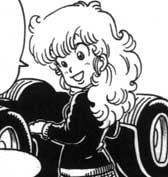 Aoi Kimidori gets her driver licence and visits Senbei Norimaki with her sister. She takes Arale Norimaki and Gatchan in a car trip, as they are the only ones who are not afraid of her driving. During the trip, they meet two gansters that they take in the car. Aoi drives until she reaches the moon.
Ad blocker interference detected!
Wikia is a free-to-use site that makes money from advertising. We have a modified experience for viewers using ad blockers

Wikia is not accessible if you've made further modifications. Remove the custom ad blocker rule(s) and the page will load as expected.