The Big-City Student

Chapter Details

Chapter #:
60
Volume:
5
Kanzenban Volume:
Kanji Title:
Rōmaji Title:
Translated Title:
Release Date:
English Release:
Original Anime Adaptation:
Remake Anime Adaptation:

Chapter Chronology

Previous:
Good-bye, Gatchan!
Next:
Mr. Handy!
The Big-City Student is the 60th chapter of the Dr. Slump manga.
Plot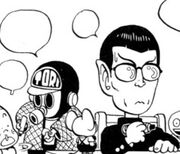 A very intelligent boy from Metropolis Island arrives in Arale Norimaki's class, Skop.