"The Great Arale-Eye Caper: Part 1" is the 55th chapter of the Dr. Slump manga. Its sequel is "The Great Arale-Eye Caper: Part 2".
Summary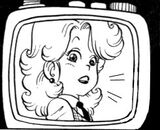 Senbei Norimaki plants a camera into Arale Norimaki while she is sleeping, so he can see what she sees. After Gatchan leaves the house to play with King Ghidorah, Gamera, Godzilla and his other friends, Senbei uses the device to watch Midori Yamabuki while Arale is at school.
Ad blocker interference detected!
Wikia is a free-to-use site that makes money from advertising. We have a modified experience for viewers using ad blockers

Wikia is not accessible if you've made further modifications. Remove the custom ad blocker rule(s) and the page will load as expected.