"The Great Space Date Adventure" is the 21st episode of Dr. Slump and Arale-chan and the first half of the Super Slump Space Special.
Summary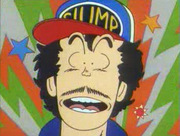 Senbei Norimaki, Midori Yamabuki, Arale Norimaki and Gatchan are on a trip to space. They land on a star-shaped planet inhabited by strange-looking animals because Senbei has to poop. While he is doing so, a giant gorilla monster kidnaps Midori and wants to eat her. Senbei asks Arale to attack the monster, but she is then distracted by a flying octopus and follows it with Gatchan.
Senbei uses the Ponpoko Morph Gun to turn the giant monster into an ant and save Midori Yamabuki. As Midori was in the monster's hand, both are turned into ants. Senbei Noriaki steps on one of the ants thinking it is the monster, while it is Midori in fact.
Gallery
Ad blocker interference detected!
Wikia is a free-to-use site that makes money from advertising. We have a modified experience for viewers using ad blockers

Wikia is not accessible if you've made further modifications. Remove the custom ad blocker rule(s) and the page will load as expected.