The Lovely Trio is the 40th chapter of the Dr. Slump manga. Its anime counterpart is "How Adorable! The Lovely Middle-aged Trio".
Plot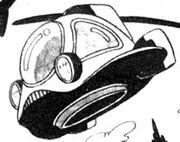 Akane Kimidori plays a joke to Senbei Norimaki, Kurikinton Soramame, and her own father. She writes a letter to invite them to the "father's day" at school and asks them to come with their cuttest costume, signing with Midori Yamabuki's name.
Ad blocker interference detected!
Wikia is a free-to-use site that makes money from advertising. We have a modified experience for viewers using ad blockers

Wikia is not accessible if you've made further modifications. Remove the custom ad blocker rule(s) and the page will load as expected.