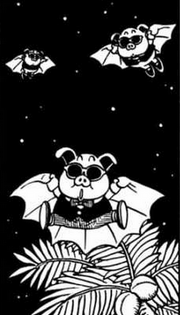 The Mayonnaises is a rock band of three mechanic pigs that look similar to Oinkety Oink.
Overview
The Mayonnaises make their first appearance in "The Reality Machine", playing when the Reality Machine needs music to generate things off of pictures that are placed into it. They appear again in "A Silent Night's Dream", flying above the Norimaki Residence at night in a manner similar to Porkbat, using artificial wings.
Ad blocker interference detected!
Wikia is a free-to-use site that makes money from advertising. We have a modified experience for viewers using ad blockers

Wikia is not accessible if you've made further modifications. Remove the custom ad blocker rule(s) and the page will load as expected.