The Story of Donbe is the 22nd chapter to the original Dr. Slump manga series by Akira Toriyama. Although it appeared in serialization before "Barber Shop Panic: Part 1", it was moved to the beginning of volume 3 to avoid splitting "The Great Strawberry Panties Caper" between two volumes, and has remained in this position in all subsequent releases.
Plot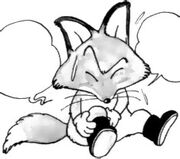 Arale Norimaki meets Donbe. Donbe tries to scare her by turning into a one-eyed monster, but, instead, Arale scares him with a funny face.
Ad blocker interference detected!
Wikia is a free-to-use site that makes money from advertising. We have a modified experience for viewers using ad blockers

Wikia is not accessible if you've made further modifications. Remove the custom ad blocker rule(s) and the page will load as expected.