The Time Stoppers is the 71st chapter to the original Dr. Slump manga series written by Akira Toriyama.
Summary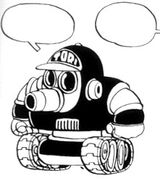 Tori-Bot comes to Senbei Norimaki to request a machine to help him so he can meet his deadlines on time for his comics. As a result, Senbei creates a machine called the Time Stopper.
Appearances
Characters
Locations
Objects
Trivia
The official viz translation of this chapter refers to the women's bath as "Women's Hottub" likely for the reason of localization as Public Bath Houses aren't common in North America and because public bathing isn't part of American culture.
Ad blocker interference detected!
Wikia is a free-to-use site that makes money from advertising. We have a modified experience for viewers using ad blockers

Wikia is not accessible if you've made further modifications. Remove the custom ad blocker rule(s) and the page will load as expected.