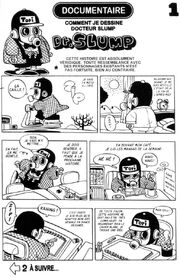 This Is How I Draw Dr. Slump, Y'all! is a short five part self drawn manga documentary by Akira Toriyama about the process of how he gets each chapter of the Dr. Slump manga done.
Overview
The comic was released as a bonus in the third volume of the Dr. Slump manga, with each part appearing in between chapters. Toriyama is drawn as Tori-Bot in this comic, which is the first time Tori-Bot has appeared in anything, replacing Tori as the incarnation of Akira Toriyama in Dr. Slump. Kazuhiko Torishima and Hisashi Tanaka also make appearances.
Gallery
External links
Ad blocker interference detected!
Wikia is a free-to-use site that makes money from advertising. We have a modified experience for viewers using ad blockers

Wikia is not accessible if you've made further modifications. Remove the custom ad blocker rule(s) and the page will load as expected.