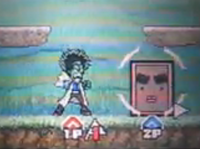 The Unnamed fusion of Piccolo and Dr. Mashirito, also called Dr. Piccolo, Piccirito, or Dr. Mashiccolo, is the fusion of Piccolo and Dr. Mashirito found exclusively in the video game Jump Super Stars. This fusion might be a reference to the fact that both characters were based on Akira Toriyama's first editor, Kazuhiko Torishima.
Techniques
Yell – The powerful sound waves cause damage. This is the only move the fusion knows.
Gallery
Ad blocker interference detected!
Wikia is a free-to-use site that makes money from advertising. We have a modified experience for viewers using ad blockers

Wikia is not accessible if you've made further modifications. Remove the custom ad blocker rule(s) and the page will load as expected.