Vacuum 1982

Chapter Details

Chapter #:
80
Volume:
7
Kanzenban Volume:
Kanji Title:
Rōmaji Title:
Translated Title:
Release Date:
English Release:
Original Anime Adaptation:
Remake Anime Adaptation:

Chapter Chronology

Previous:
Mr. Copy (chapter)
Next:
Goo Ga Senbei
Vacuum 1982 is the 80th chapter of the Dr. Slump manga.
Summary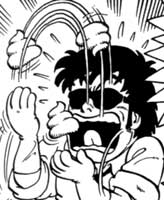 Arale Norimaki and Gatchan meet a professional vacuum worker. They play running after his truck, and Gatchan eventually destroys it using his Antenna Beam and leaving the vacuum worker covered with poop.
Trivia