Vegeta (ベジータ) is a prince to the alien race known as the Saiyans and rival to Son Goku in the Dragon Ball series.
Overview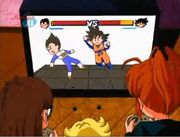 Vegeta makes a cameo appearance in the Dr. Slump remake, on a video game Arale Norimaki and Akane Kimidori are seen playing. In the game, he is played by Arale and fights against Goku, who is being played by Akane. Vegeta loses the fight.
In the movie Dr. Slump and Arale-chan: N-cha! Love Comes From Penguin Village, a toy of Super Saiyan Vegeta is seen on a dashboard of an airplane next to a toy of Son Gohan and Cell.
External links
Ad blocker interference detected!
Wikia is a free-to-use site that makes money from advertising. We have a modified experience for viewers using ad blockers

Wikia is not accessible if you've made further modifications. Remove the custom ad blocker rule(s) and the page will load as expected.