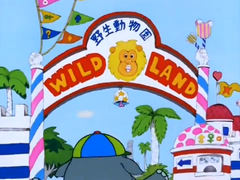 Wild Land (野生動物園) is a zoo in Penguin Village. It is different to the Penguin Village Zoo, which is a regular zoo. Arale Norimaki, Gatchan, Akane Kimidori, Taro Soramame and Peasuke Soramame visit it in the chapter "Yay Yay Wildland" and the episode "Yay Yay Wildland".
Ad blocker interference detected!
Wikia is a free-to-use site that makes money from advertising. We have a modified experience for viewers using ad blockers

Wikia is not accessible if you've made further modifications. Remove the custom ad blocker rule(s) and the page will load as expected.