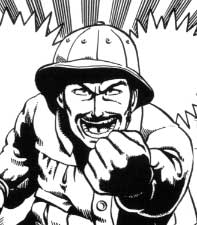 Yo Chien is the leader to the Space Patrol Squad. He first appears in "The Biggest Bye'cha of All: Part One". He is a supporting antagonist in the movies "Dr. Slump: Hoyoyo! Space Adventure" and "Dr. Slump & Arale-chan Hoyoyo! Sekai Issuu Dai Race" where he and the rest of the Space Patrol Squad are subordinates of Dr. Mashirito. He is voiced by Hidekatsu Shibata.
Trivia
Yo Chien's appearance in the anime is identical to Emperor Gaganbo from the one-shot Pola & Roid.
Ad blocker interference detected!
Wikia is a free-to-use site that makes money from advertising. We have a modified experience for viewers using ad blockers

Wikia is not accessible if you've made further modifications. Remove the custom ad blocker rule(s) and the page will load as expected.